DARK ROSE SCHOC CHOCOLATE TAB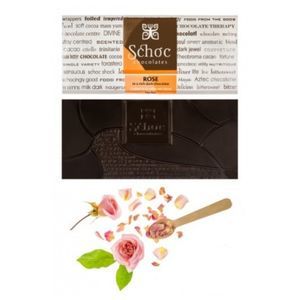 No in-store stock, please contact us for availability
Luxuriate in this wonderful tablet, boasting French Damask Rose in rich, dark chocolate. 
Schoc's dark chocolate is a deeply satisfying, antioxidant-rich 55% cocoa solid blend.
A proudly NZ owned and operated business, Schoc Chocolates gourmet range combines the joy and health benefits of consuming quality chocolate with a deeper understanding of one's inner self.
Schoc chocolate beans are sourced from Tanzania, Java, Papua New Guinea, Cuba, Ecuador, Grenada, Dominican Republic, Ghana, Trinidad, Madagascar and Sao Thome. Chocolate from these gourmet beans has a minimum amount of sugar added for flavour enhancement.
Importantly, all Schoc Chocolates growers are treated fairly and respectfully. Schoc believe in sustainability improving farmer livelihoods and doing business responsibly.

The flavourings are organic, where possible, and sourced locally. No extra sugar [apart from caramels] or any preservatives are added and only whole and real flavours used. The base chocolate is hand-crafted using classic techniques.
Allergens
Please note that Schoc Chocolates do use milk and white chocolate and nuts in some of their products. They do endeavour to keep their dark chocolate and nuts separate, but can't guarantee this.