ECOYA GUAVA & LYCHEE SORBET HAND & BODY LOTION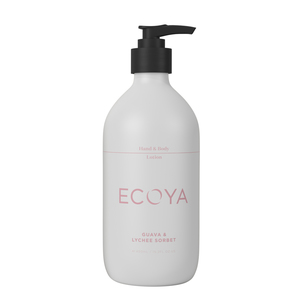 Tropical layers of ripe guava nectar are interwoven with a lively, Queensland lychee-inspired scent and a cocktail of berries, creating a warm, voluptuous fragrance.
No in-store stock, please contact us for availability
A subtly perfumed hand and body lotion. Rich with botanical oils of macadamia and coconut, this formula moisturises and softens your skin while aloe vera hydrates.